Review: Wasted
This Event ended Oct 22nd, 2015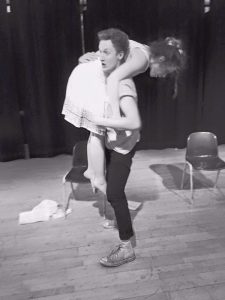 It's always thrilling to discover a fresh new voice making waves in international theater, one that not only engrosses its audience and keeps them invested in the unfolding narrative, but also forces each individual to question everything they know about the most quotidian of affairs. Irish playwright and director Kat Woods, whose play Wasted explores the murky area in consensual sex between two twenty-somethings after a night of heavy drinking, is such a voice. American theatergoers have a chance to see her Edinburgh Fringe Festival hit during its limited run at the SoHo Playhouse in NYC.
The show has an interactive element and begins from the moment the doors of the house open, the audience summoned by stars Will Merrick and Serena Jennings, who play revelers Ollie and Emma. The stage is backlit in red and the air is ripe with the permeating sounds of club music, which makes the atmosphere seductive and highly energized. It's very much about getting a first-hand, momentary glimpse into some of what unravels during the night, but only the moments of fun — the bit that can be misleading to the random onlooker.
Soon after, the play begins to take a dark turn as the night's events are recounted by a confused and tearful Emma to her friend Kate (played fantastically by Mr. Merrick). The scenes where Ms. Jennings confides are hard to watch and, juxtaposed with the affable Ollie's own confusion and doubt, heartbreaking. Suddenly things aren't what they seem and the play escalates rapidly into a nightmare for both Emma and Ollie. Ms. Woods' writing is sharp and honest, but never heavy-handed in an attempt to convince. She trusts people to think for themselves and gives her actors free range to tell the story, which they do by skillfully embodying various characters, each helping to put the pieces of the puzzle together through transitions in time, scenes of intimacy framed like snapshots and phone messages.
Wasted is inspired by true events. In an interview with StageBuddy, Ms. Woods said that tackling the issue of consensual sex is important to the actors as well as herself because the the culture of binge drinking has become the norm for people in their teens, 20s and 30s. It certainly has become the norm in the US, with horrifying consequences. Wasted offers the opportunity to help build conversations around how to prevent, handle and resolve these issues with better understanding of matters that are far from black and white.